Testimonials
What our satisfied customers have to say….
We got Unique Fireplaces to replace our existing fire with a glass fronted log burner and to restore our old fireplace which was badly damaged.
Greg the owner was very helpful and his recommendations were first class - finding us the right model, his excellent customer service was very much appreciated. Greg had the whole job finished in a few days - we were very impressed with the time scale and all was delivered as promised. The restoration of the fireplace was outstanding, a lot better than we had hoped for - it looks like new. The log burner looks great in the fireplace.
I am very pleased with the excellent workmanship which was carried out by Greg and I would not hesitate recommending Unique Fireplaces.
I highly recommend this company!
We have recently had the pleasure to do business with Greg of Unique Fires who was extremely efficient and we now have a fabulous new fire with which we are very pleased
Hello Greg, I arrived safely and perfectly on time yesterday and it's good to be back here again. I was –as you will understand- very anxious to see the fireplace in its ready-state and the only word that I can say is: WOW !!!! A big THANKS for the great job you did in installing our new fireplace. It's not just the uniqueness of the Dimplex OptiMyst concept that we are very satisfied with, but even more so your professional way of working, your advice and the meticulous work that you delivered. Know that you will find in both Annick and me 2 true ambassadors for Unique Fires.
I decided to install a feature gas fire as part of a renovation project. I contacted Unique Fires for information and have been pleasantly surprised by the professional service I received right from the outset. Greg helped me decide on the best solution based on my requirements and the outcome has exceeded my expectations. The quality and design of the product as well as the installation and service have all contributed in providing an aesthetic and functional fireplace
We have new neighbours arriving in March in our block, they have seen our fire in action and were impressed, and I will give them your details when they come back from the UK... if ever you get potential French clients and they need a recommendation in French, give them my number
We chose Unique Fires purely from reading the testimonials on the website and from day one we totally impressed. Greg contacted us within a few hours helping with our questions and queries. As we are not living in Spain yet, this was all done via emails, calls and photographs of which Greg worked around our next visit and within a matter of 3/4 weeks we have now got a fantastic wood burner fitted in our apartment. We can't recommend Greg enough, he is extremely professional, helpful but most of all friendly and has made the whole process so easy, a fantastic job thank you again.
With the greatest of pleasure we ​thoroughly recommend Greg and his team for any fire installation. They we polite, kept any disruption to the minimum, cleared up when installation finished and were very professional in all aspects. Within a few hours we had gone from an empty grate to a new, modern wood burning fire.
Dear Greg, Thanks for all your hard work and advice regarding our fireplace. We were going to knock the whole chimney down and start again but you advised us not to and were quite right to say we could preserve the rustic charm and character of the existing fireplace by making some fundamental alterations but preserving the basic structure - great decision and very pleased with the result (and also worked out somewhat cheaper than if we had knocked the whole thing down!). The wood burner fits very well and the whole thing looks great.
Greg and his team installed a glass fronted wood burner to our home in Marbella as part of a full renovation. We were extremely impressed with the level of professionalism and workmanship throughout the process. The installation was totally seamless and  was completed in a single day. I can highly recommend Unique Fires and Greg in particular who has a wealth of knowledge coupled with an extremely professional approach. We are delighted with both the product and the service we received from Unique Fires. Thank you again Greg.
Greg and his team have installed two wood burning fires in our house in La Alqueria.  The time between making an online enquiry, getting a quote and getting the job done was less than two weeks  - outstanding in Spain!  They were extremely efficient in every dealing we have had with them.  Set a start date, arrived on time, completed two fireplaces in a day and left the house clean and tidy when completed.    We can honestly recommend Greg and his team and I am more than happy to act as a referee if he should need it.  Thanks Greg – it was a pleasure. 
From the first time Greg came to our home to measure up to the end result . Honestly one of the best company's we have ever dealt with. Greg is a real perfectionist, even arranged for a painter to come and paint the whole room after his team finished. Absolutely delighted with our new fireplaces. Would 💯 recommend Greg and his team. Thank you. Jan and Dave, CASARES
Unique Fires installed a lovely wood burning stove today. A beautiful job. Greg and his team do a very professional, precise and tidy job. Even returning after installation to show us how best to light the fire.
Thank you very much Greg, super job. More than happy, we will recommend tu friend also
Unique Fires were recommended to me by my neighbour, who is delighted with his log burner. I can now echo that recommendation. Expert advice, great craftsmanship, quick and efficient service and a good price. Thoroughly recommended.
Greg …a quick note to say thx for your work last week. Both Jenny & I were impressed by the service you provide and the product exceeds both our expectations! Also Thanks for the recommendation of the log supplier, good logs do make a difference to burn and cleaning.
When we decided to have a gas fire the testimonials of your customers made our decision to trust your company an easy one. The quality of the fire and the decor ideas and care in their realisations are far over what we expected. Thanks for having transformed our living space.
Hi Greg, Thanks for the excellent service, and for going above and beyond when we had a problem with the glass door of one of our log burners. Delighted with the 2 log burners you have installed for us, the whole process of initial visit, order and installation has been excellent, wouldn't hesitate to recommend you to anyone thinking of installing a log burner to cope with the chilly Spanish winter nights.
Having struggled to find a reputable company that could look at our fireplace and assess whether a wood burning stove would be possible, we asked Unique Fires to come along and give us some advise and a quote. Greg was extremely helpful and smoke tested our chimney to ensure suitability. Once we were sure all was ok, we then looked at remodelling the fireplace into more of an inglenook style inset to house a log burning stove. We went away for three days and entrusted Greg with the keys to our apartment and allow him to get on with the job. When we returned the fire was in, the fireplace remodelled and plastered up and it looks amazing. This will ensure on those colder winter nights our whole apartment will be warm. Thanks Greg for a smashing job and we will have no problems recommending you to our friends and neighbours.
Greg and his colleague recently installed a log burner, on installation they found the existing flue was damaged. They went out of the way to get the flue replaced and the log burner installed the same day. We are really pleased with the final result and they cleaned up so well afterwards it didn't look like they had ever been there. We would highly recommend Unique Fires for any heating needs.
Hi Greg, I just wanted to drop you a quick note to say thank-you for the recent installation of our new log burner. We are very pleased with the end result. Your help and advice in the planning phase, assisting with the selection of an appropriate log burner, providing pictures, tile samples and guidance on location and fitting was very helpful and was provided quickly and efficiently. The quality of workmanship during installation was first class. The log burner has helped to transform our villa, not only does it generate plenty of warmth with capacity to spare, it has created an attractive feature in our living room. Thank-you again,
Hi Greg, Just a quick note to thank you and your team for a fabulous job on our new chimney breast and wood burning stove. We love it and look forward to the winter to try it out properly. We really appreciated your communication with us at all times, particularly at these difficult times. Would definitely recommend you to our friends.
Would like to thank Greg and his team for a fantastic job on fixing our cracked chimney and fitting a brand new wood burning fire. Greg is very knowledgeable and provided great advice on the type of fire we should have in terms of energy efficiency and child safety. Greg's team worked efficiently and tirelessly to get everything completed with a professional finish which was all done in one day. I'd highly recommend Greg and his team for the excellent service and after care advice. Thank you
Look, this is easy. If Greg says he can do it he will. On time, efficiently, for the price quoted and leave the room looking as clean and tidy as when he arrived. It has been a real please dealing with him and his team. Thanks again Greg
Can not recommend Unique Fires highly enough. Greg was fantastic to work with - extremely professional with a great eye for detail! He designed our media wall to include a stunning electric fire and wall mounted TV with beautiful shelving detail.
Greg and his Team were all extremely professional - an absolute pleasure to work with. They arrived on time, worked efficiently and left the place spotless. The whole operation ran like clockwork.
The end result has transformed our living room - we love it.
Thank you to Greg and his Team.
Greg at Uniquefires installed a new wood burning stove for us in March 2022. He was extremely thorough, well informed and informative, punctual and professional. His team did a very best and tidy job. Very pleased with the result and recommend him.
We are delighted with the electric wall fire that Greg and his team installed in our house. They turned up on time everyday and the guys were so tidy and efficient.
I would highly recommend
Great job, very professional quick and clean. We are so happy. Thank you
A big thank you to Unique Fires for transforming our fireplace into an inglenook with slate hearth and installing a great looking log burning stove. Absolutely brilliant job and excellent service. It's toasty warm and easily heats our whole apartment. We are really pleased and so glad we found Unique Fires (who we highly recommend).
After visiting another fire installer, we found Greg and weren't we glad that we did! He arrived on time and gave us much appreciated advice as to what would be the best fire for our needs, informing us that the more expensive option that we had considered was not necessary. The installation took place in our absence and we are thrilled with the result. The fire is fantastic and very easy to use. The plastering and repainting matches perfectly. If you're looking for the most professional, but friendly and helpful fire installer on the coast, we recommend Greg without hesitation.
Hi Greg, Just to say many thanks for the excellent work carried out when fitting the fires into EP1 and EP2, we were in EP1 this last weekend for a few days and the look and warmth they convey is fantastic, exactly what we required. Andrew from a company called The Kitchen Company based in Estepona does upgrades for me in both apartments and he was also very impressed with the work and asked for your details so I gave your information; hope that meets with your approval. Once again many thanks.
We are very pleased with our electric fire. You made it beautiful with the marble an did an excellent job. It is safe and warm. Thank you so much and it will be announced on the mail for all the people that live in our complex. Wish you all the best.
We chose Unique fires for the remodelling of our fireplace after several recommendations. We were not disappointed, in fact the work surpassed our expectations. The work was undertaken whilst we were back in the UK, and we received regular progress picture updates. The level of professionalism from initial meeting, through planning and design to execution has been superb. Thank you for a great job.
We would like to say a very big thank you to Greg for super, professional and prompt service from the first point of contact. As our fireplace was installed last spring we didn't get the chance to try it properly until now and we are absolutely delighted! We had a totally useless old fire but with the replacement and repair of the chimney executed by Greg we now have a super fireplace that heats our house on a daily basis in this winter. We are so grateful to Greg and his company for their professional service, good guidance and helpful advice.
Having just moved into a new home, we wanted to renovate and update our fireplace as it looked old, dirty and tired.  While searching for solutions, we came across a company called Unique Fires who offered some suitable fresh and stylish designs. Upon sending them an enquiry, the owner Greg immediately contacted us and came out to visit our home to look at the fireplace.
Greg listened to our requirements and he was able to offer us some fantastic solutions. He had a wide portfolio of work completed and he was enthusiastic on a number of great designs for our fireplace. Greg visited our home on numerous occasions to talk through all the appropriate options for the surround, hearth, tiles and the actual fire. Greg was very informative and we were very pleased that he could provide us with physical samples to help us visualize the final design.
When demolition day came (D-Day) Greg arrived with his team Marcus and Alex and they went through what to expect to happen over the following few days. They made sure that the work albeit messy was carried out causing as little disruption as possible and that the work site was left spotless each day.  The quality of finished work was exemplary and the finished product turned out exactly how we envisaged.
We could not have been happier with the entire process and would recommend Unique Fires to anyone thinking of upgrading their fire.  (Warning! Not only is Greg a master of his trade he is also a fine connoisseur of 'cake').
I am over the moon with my beautiful new wood burner!  Greg was professional and helpful throughout, helping me choose the stove and tiles and offering great advice.  The guys who work for him were here for 4 days and were a joy to have around.  They were friendly and even put up with my 3 dogs yapping at their heels!  At the end of the project the house was completely put back together and cleaned to perfection.
I have nothing but praise for Greg and his workforce.  I highly 100% recommend them.
Having recently moved to Estepona, finding a good builder was essential. After my first meeting with Greg, I felt confident that Unique Fires were the right choice. Reliable, honest and great value for money. Greg and his team went above and beyond to transform my room - installing a beautiful, bespoke media wall, perfectly integrating my TV and 3 sided fireplace. The workmanship is outstanding; each trade undertook their work with total professionalism. I will be using Greg on my next project and have every confidence that the results will be outstanding. I cannot recommend Unique Fires highly enough.
Greg & team were one of many jobs we had on a total renovation of our house. Greg was easily the most reliable of all workmen we had at the house during this time, firstly installing an electric fireplace in our lounge area, and then a second fireplace in our larger kitchen area. This was to replace an old log fire we had which turned out to he high maintenance.
The quality of his plastering work and attention to detail on everything during the installation meant we were very comfortable to purchase twice.
More importantly, the fireplaces look great and are simple to use.
I'd highly recommend Greg and his team.
We brought our terrace heaters from Greg at unique fires with next day delivery and we have enjoyed our summer evenings even more.
We installed 3 fireplaces using Unique Fires Company. Greg the owner was super helpful in finding us the right model, I really appreciated his excellent customer service, and did I mention the price was right? Really is refreshing to meet someone in Marbella who is an honest businessman who really wants people to get value for the money. I could not be more pleased with the truly excellent workmanship all of the 3 fireplaces are stunning. I highly recommend this company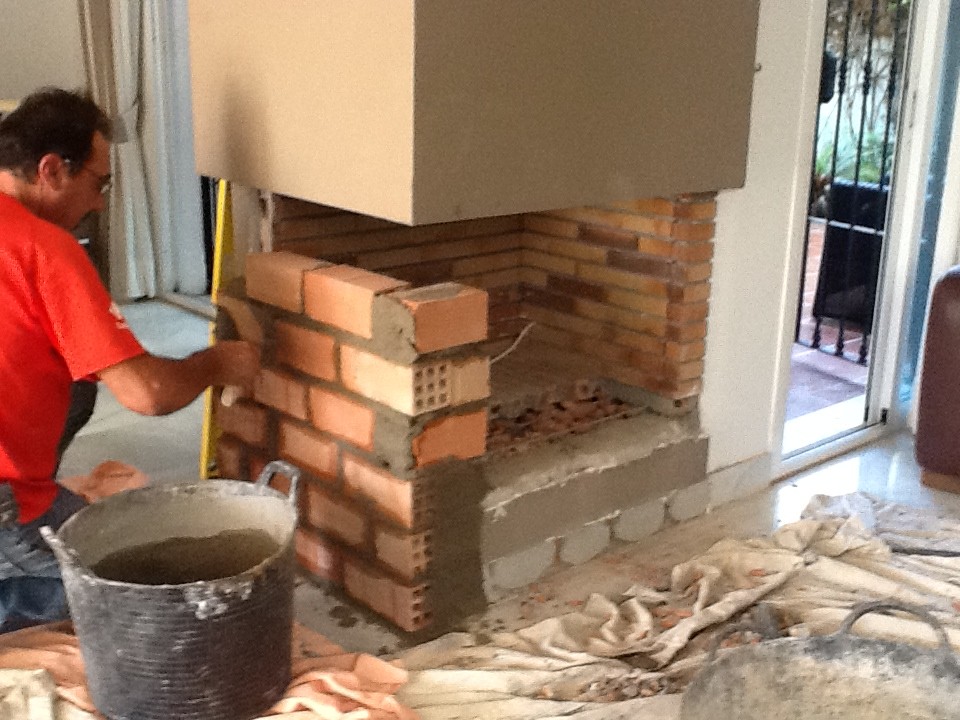 Good morning Greg! Thank you for the receipt for the electric fire which I will keep in a safe place. We are very pleased with the fire and also the service which you provided. Our best wishes to you and your family for a happy and peaceful festive season. Once again many thanks
Dear Greg, Thank you very much for our beautiful new fire place. We can't tell you how happy we are with it. We have been so impressed by not only the workmanship, attention to detail and dedication of Marcus but also the service provided by yourself. From my initial email inquiry the service has been excellent; all emails were answered promptly the work was carried out swiftly and we were dealt with in a friendly and professional manner. As you can see from the photo, it is a stunning new feature of our home. Many thanks again to yourself and Marcus.
In all aspects of his work Greg is professional. On first meeting we found him to be punctual, knowledgeable and possess an excellent portfolio. Before the works commenced therefore, we knew his work would be of a high standard and he did not disappoint. We would definitely recommend him to all, it would be difficult to find a more professional tradesman.
Thank you once again to Unique Fires who have helped transform our lounge from a tired old room to somewhere we both want to spend time and relax. From the original quotation to completion, we have received fantastic service all round. Honesty, efficiency, punctuality and great work with a fantastic finish. If anybody is thinking of updating a fire, I defiantly suggest you contact Greg at Unique Fires ... you won't be disappointed!
Thanks Greg, you did a great job installing a beautiful closed glass stove in our lounge. We do not live permanently in Spain but all the arrangements went really well.
We contacted Greg at Unique Fires on the recommendation of a friend having seen their wood burning stove that had been installed by Unique Fires. We had a short window in which to sort out an appointment before our return to England. Greg was extremely helpful in visiting us at short notice to do a survey and give us an estimate for the work. He was very helpful, friendly & professional and we subsequently instructed him to do the work. We were not able to be there whilst installation took place but he kept in touch throughout the process sending us photos of work in progress to the finished result, which we are very pleased with. This was a seamless process from start to finish and we would have no hesitation in recommending Unique Fires to anyone.
After moving to Spain two years ago the one thing we really missed was a nice fire. We called Greg and he came round to offer his advice. We found him really easy to talk with and did not feel under any pressure to buy. The one thing we really appreciated was his honesty and not trying to sell us the biggest & the best. We also didn't feel rushed at all during his visit. Once we made the decision he even went so far as meeting us at his showroom on a Sunday to show us the fire we had chosen. We ordered the Bury log burner with the three glass sides and are very pleased with the look & the quality.
The log burner arrived in 10 days and his team were excellent in the way they worked during the installation. Alex, Giovanni & Leo built a chimney to match the existing one we have on the roof so it doesn't stand out to be an addition. Such a great job.
They were conscientious, polite and cleaned up before they left. Going so far as hosing everything down on the roof and patio. Much appreciated.
Greg even checked back the next day to light the fire and show us how to use it giving advice on wood etc.
Really pleased with the end result and would highly recommend Unique Fires
Greg and his team at Unique Fires were recommended to us by a friend and we are very glad that we got in touch.
Greg fitted a closed log burner into our previously open fireplace.
The entire team were professional and efficient and did a great job with a thorough clean afterwards.
The fire Greg recommended not only looks great but when tested proved it will give us what we need for cosy winter evenings in Spain.
It was a real pleasure to do business with Unique Fires and Greg in particular and would recommend him with no reservations.
Thank you so much Greg, and please thank your fabulous team. From start to finish I can't fault your service and workmanship. The fireplace turned out exactly how we designed it and the finish is second to none. We love traditional style fireplaces and you fulfilled our wishes completely. It looks like it's always been there which is exactly what we wanted.
We are extremely fussy and it's been so refreshing to be able step back and trust you 100% to do the job from start to finish. From a blank wall we had a fireplace, log burner and brick chimney in just 5 days (as promised) - unbelievable!
We wouldn't hesitate to recommend you. We can't wait for the winter now, for glasses of red wine and a roaring log burner 😍
Great service at a good price. Very happy with our new log burner. Left everything clean and tidy
Wonderful service. Everything on time!